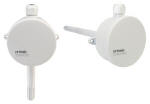 HF34 Thermo-Hygrostat / Thermostat / Hygrostat
The HF34 thermo-hygrostat is designed for applications where conditions are within the range of 0 to 100 %RH and -40 to 60°C (-40 to 140°F). Depending on the model, the HF34 has one or t wo relays...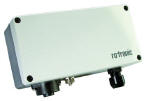 HygroStat MB: Thermo-Hygrostat
The HygroStat MB is a thermo-hygrostat built in a robust industrial housing. Two relay outputs allow simple tasks such as the switching of dryers, humidifiers, etc. ? Monitors temperature, rel...